After having looked at my pile of papers for about a week after buying Scrivener, I determined that I would take the plunge and start my project.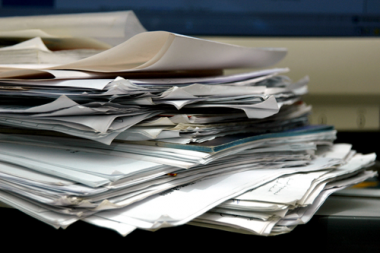 But first I had to get a template! Actually I could build my own template, but Scrivener seemed so overwhelming to me, I was somewhat hooked on using other people's templates.
A template in Scrivener is essentially a pre-determined setup for your project, including how you will organize your chapters, where your research will go in the files, and how your compile attributes are set up. It sounds kinda boring, but it isn't, because I specifically recall looking at some of these templates and getting very, very excited about where I'd put everything. Kind of like you do when you're looking at new houses or apartments or condos or whatever, and you think, hey! I can put my couch here, this will be perfect!
That's how it went with me. I honestly went to bed thinking, well, I can now add that quirky scene on the hillside along the Devil's Bellows! And this said as if prior to Scrivener I wasn't allowed to fit in that particular scene. The real problem was that while I had thought of this particular scene, I had no idea where it might go to be most useful, and thus that little scene languished in the unorganized file cabinet of my mind.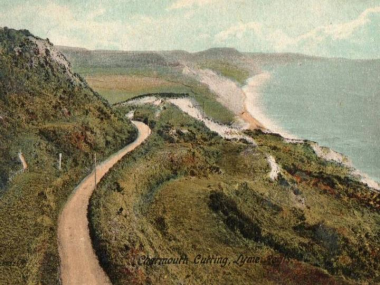 Just sos you know, the Devil's Bellows is the tract of land between Charmouth and Lyme Regis in England. At one point, the folks built a road so that coaches could take a kind of shortcut along the seaside. Turned out that the particular angle of the hillside to the sea caused a few problems, one of which was the very high winds, which were strong enough to knock whole coaches over. The other, the slipping of the hillside into the sea, caused the road to be closed down to major traffic. Which is why, as you may be pleased to know, that no mail coaches and no passenger coaches could go this route. No! Instead they had to go up to Hunter's Lodge Inn at the top of the hill and let passengers off there.
At any rate, the search for a better mousetrap all started when I was dragging my feet writing my second book. I was poking around online for H-E-L-P. I didn't want one of those books that tell you how to write that blockbuster in 30 days! And I didn't need one of those writing help guides that talk about point of view and verb tense, because I know that stuff. And I'd read enough of the very excellent Writing Down the Bones types of books, and in the end went to Dean Wesley Smith's website, where he essentially says, sit down, shut up, and write, damnit!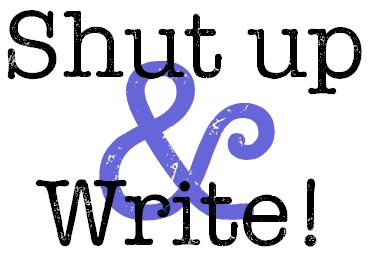 I got to the point where I had to fish or cut bait.
But I did want someone to hold my hand and walk me through how to organize the piles and piles of paper I had. I had written out an outline and put it on the kitchen table. Then at lunch, I had another idea and wrote that down, and put that piece of paper on the chest in my room. Then I wrote out 3 x 5 cards and stuck those in my book bag. This has happened a lot over the last few months. You see the problem? I had three streamlines of story ideas and no real way to bring them together, and no desire to start because I was already overwhelmed. And every time I looked through one pile of paper, I created three new piles.
In my stumbles I found Scrivener, and in doing research about that, I found other folks on the interwebs who had used Scrivener and were more than happy to share how they'd done it. And in doing it, they would demonstrate their method and then provide a download of their template – which is why I got so hot for templates! Which is what introduced me to the Snowflake Method, among other things.
The Snowflake Method, which is a really good variation on the three act story, teaches you how to layer your organization – you start small with a one sentence summary of your story. This is supposed to be around 15 words, and then you build on that, making a paragraph length summary, and then you build on that until you have the whole thing. Then you develop your characters in much the same way, giving them values and goals and ambitions. Scrivener also has a handy area for keeping eye color and cool information like that. When I went and looked at it, looked at different people's definitions of it, it seemed to suit me very well. Here's a really good description from S.E. Lund as to how she used the Snowflake method in Scrivener.
I  quite liked Belinda Crawford's and Caroline Norrington's template for how they interpreted the Snowflake method, but in the end I went with one designed by Colin Mobey. Colin dug really deep and came up with good color schemes, but it was the way he laid out his template that made me feel most comfortable, so I went with his. I ended up learning a lot about Scrivener by removing much of Colin's beautiful use of color, putting in my own touches, and learning about flags.
There are other methodologies out there that I checked out. Just google "outlining in Scrivener" and you will be instantly overwhelmed! One I particularly liked was the 27 chapter method that Katytastic demonstrates very nicely on youtube. She has something that obviously worked for her, and figured out that 27 chapters is what she needs to write a novel, so I included that in my template.
In the end I realized that to make a great story, I needed to create my own template. Colin saved me from having to do that from scratch, but I spent about two hours tweaking things, and, like I said, learned a lot about Scrivener.
So here is an image of Scrivener when I'd just uploaded my story. I followed the advice of many and opened my .doc file, saved it as an .rtf and uploaded that. It went very smoothly.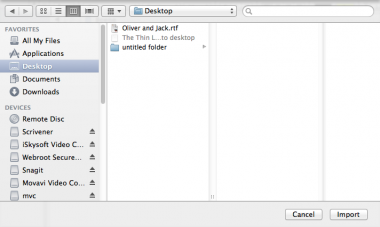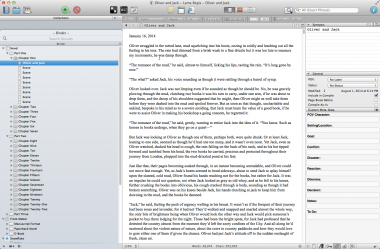 Then I futzed with the template, tweaking it to suit my tastes, and started right away working on setting up Act 1. Here's some of what it looks like.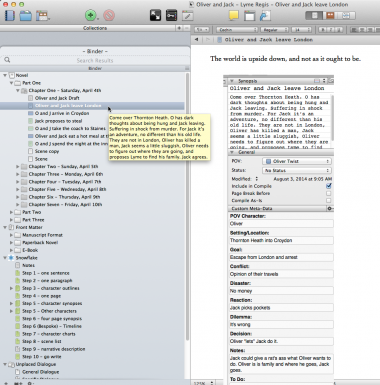 Of particular importance to me is the corkboard. I coded Oliver as a grey blue and Jack as a heathery green. I think both lads are pleased with their color assignments; I know I am!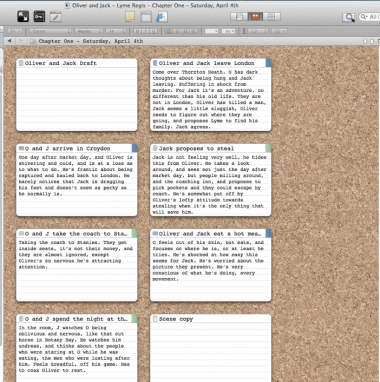 My next goal is to set up Act 2 and Act 3, and lest I start to think that I'm cutting bait rather than fishing, I remind myself of how much better it feels to be working on the story this way. Also, and perhaps more importantly, when I'm entering notes on each chapter, and, as you can imagine, there are quite a lot, I often get flashes of information that I didn't know before! Like, for example, the fact that Oliver doesn't ever want to go back into the workhouse. Duh. Well, I knew that before, but I didn't realize how stridently he felt this, that is, until I began parsing out a scene between Oliver and Jack, where Oliver is vehemently explaining to Jack why they can't be perceived as debtors or anything close to it.
This is how I felt before Scrivener.
This is how I feel after Scrivener.