When I write about my characters, I do far too much research about the area that they'll be in. And, typically, it's usually some place I've actually been, though I'm always too jazzed about being there while I'm there to take proper notes. That's where the internet comes in handy! (And really, is there actually anything like "too much research?") And, being the kind and thoughtful type, I can share some of my research about the town of Lyme Regis, England.
I seriously considered using the town of Charmouth, on account of their marvelous website about the history of Charmouth, which includes pictures and maps and tax lists and pretty much anything you might want to know about a town to set a story there. Sadly, the charming town of Charmouth lacks the dramatic curve of The Cobb, and even though Charmouth has the added advantage of actually being a regular stop on the London to Exeter coach (a coach that goes by the name of The Comet), I was not able to use it. However, there's always next time!
So Lyme Regis it is.
Lyme is a beautiful village, as depicted in this painting by Turner.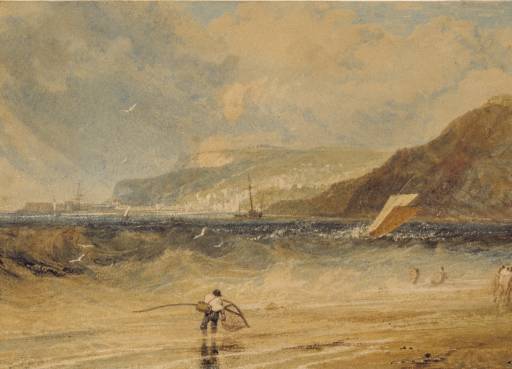 But what interested me more was the nitty gritty of the workings along the shoreline. As you can see by the following picture, while Lyme was a seashore resort, it was also a place where they made cement and hauled in nets of fish, and generally got messy while doing it.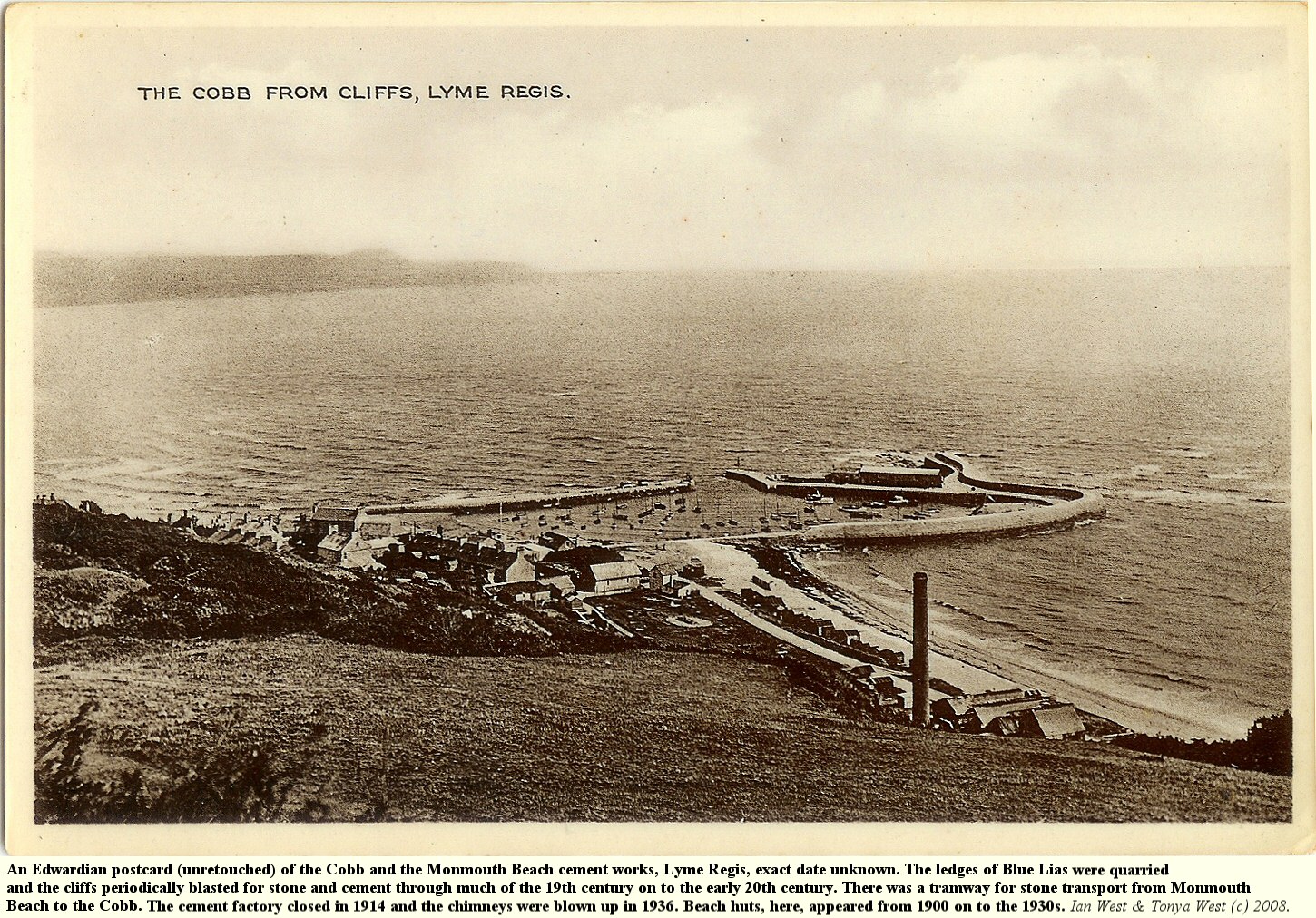 I had originally thought that to while earning money, Oliver is gutting fish ON the Cobb, but after some research (and watching the 1995 version of Persuasion again) that gutting fish happened on the shoreline, just to the right of the Cobb, as indicated in the following photo.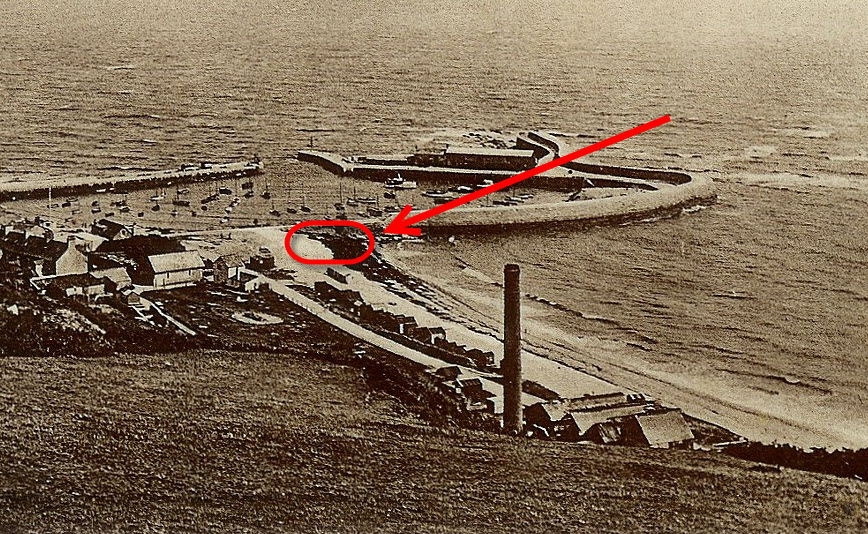 And as you can see in this photo (from the movie), there are women messing with nets way out on the Cobb, where Captain Harville lives, but they are not gutting fish.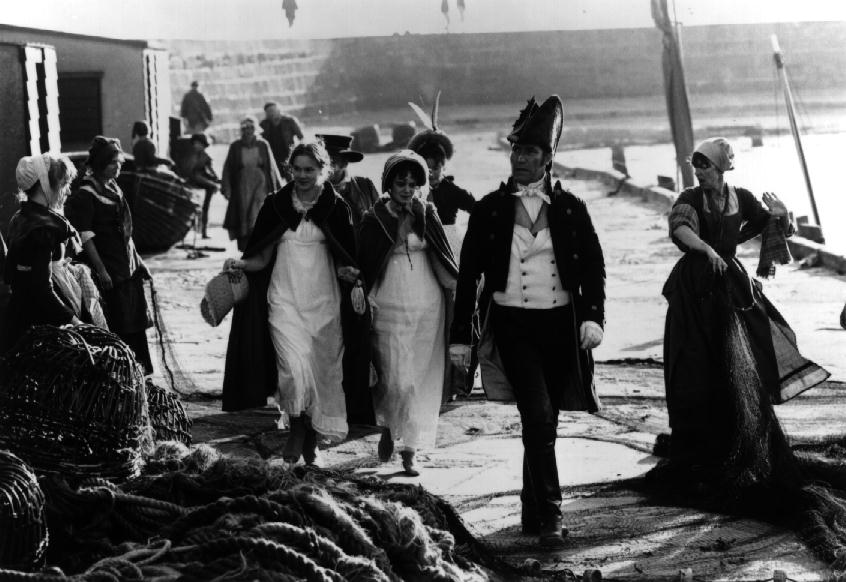 The next picture, as well, displays the workaday air of Lyme Regis back in the day. The tide is out, there are no holiday makers, and certainly no seafront walk to stroll along. Just a lot of sand and fish!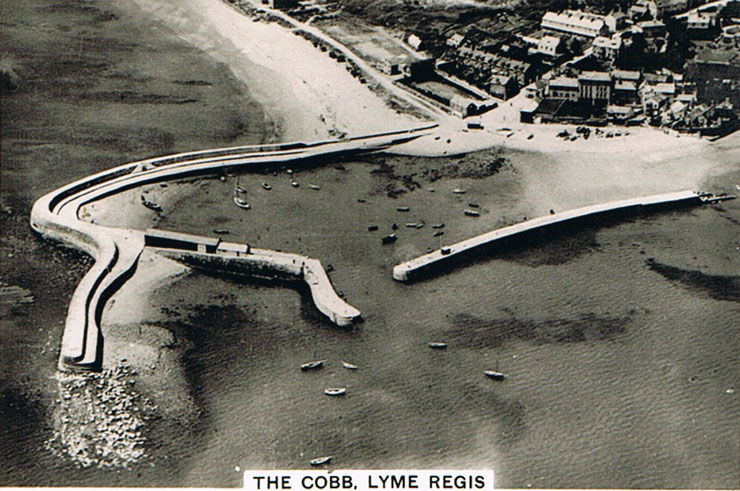 This beautiful little drawing shows the kinds of ships that would be in the harbor, a couple of barques, it looks like, and some smaller smacks.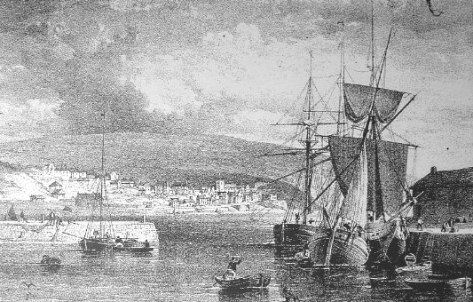 I don't think Oliver walks down the main street of town, as he's coming from above Lyme, on the east side; going through town would add a good bit of walking to his morning commute.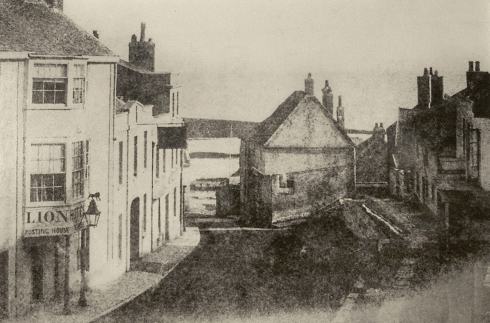 The following is a picture of the cliffside to the east of town. It's called the Black Ven, and it was through this area that a road once ran, called the Charmouth Cutting. The road was never very easy to travel on, and once the landslides started wiping it out, they just let it go and never built another road there. But it's beautiful to look at and I imagine that Jack walks along here while mulling over the situation with Oliver (who drinks too much); as well, Oliver finds Jack here and manages to say the most difficult three words in the whole of the English language.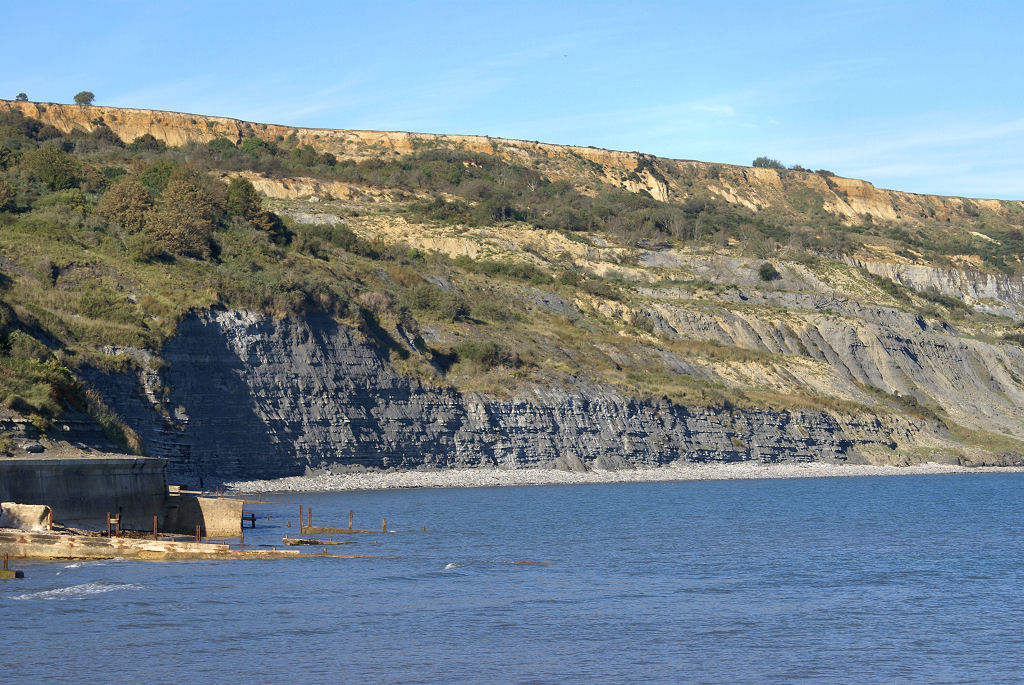 Gutting fish is a messy business, and there are always lots of barrels and salt and sea spray and fish guts. Now, knowing what you know about Oliver Twist, how do you think he reacts to getting a gob of fish guts in the face?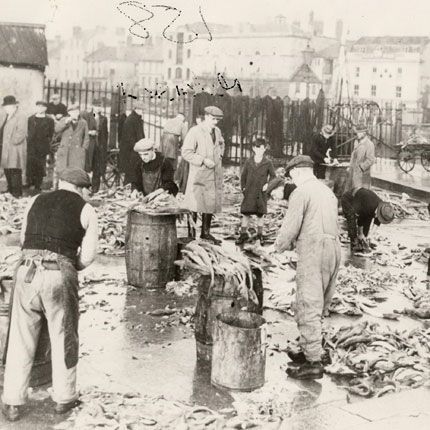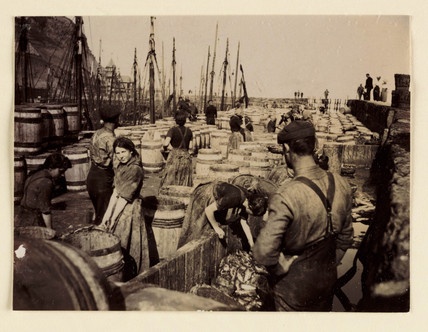 P.S. There are fewer historical pictures of people gutting fish than you might think, but why that is I do not know.